How Long Do Tires Last?

How long do tires last? Most tires are designed to last around 60,00 miles, which is roughly three or four years for the average driver. However, your tires' lifespan may be more or less depending on several factors.
The team at Nissan of Mobile wanted to give drivers around Mobile, Prichard, and Saraland all the necessary information on tires, so we put together this guide to answer the question, "how long do tires last?"
Conditions That Affect How Long Tires Last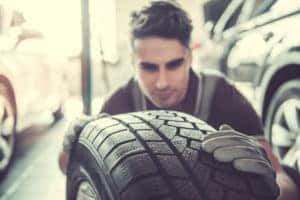 While the typical tire is designed to last 60,000 miles. However, that's not a hard number and can vary greatly from driver to driver based on their driving habits and location. Here are the factors that tend to wear down your tires more quickly:
Poor roadway conditions
Driving or accelerating too quickly
Frequent emergency braking
Extreme temperatures
Too infrequent driving
While you can't control the roadway conditions, you do have some control over the other factors. For example, during those hot summer months, it's best to store your vehicle in a dry, climate-controlled location to improve tire health and prevent possible dry rot.
You can also make sure to give your car some use or at least check the tires every month to make sure that everything is in good health.
Also, keep a safe following distance between you and the person ahead of you to cut down on quick or emergency braking. On the other hand, when you're getting going, ease on to the accelerator to avoid putting unnecessary strain on your tires.
How to Make Your Tires Last Longer
So, we've talked about what can wear out your tires, but what about behaviors that can keep your tires around longer? In general, staying up to date on your car's routine maintenance needs can go a long way in keeping your tires in great shape. More specifically, try to do the following:
Completing these maintenance procedures can ensure that you're driving on your tires evenly, which can put less wear and tear on your tires and your car.
Signs You Need a Tire Replacement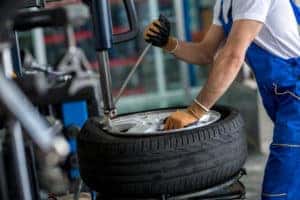 We recommend checking your tires monthly to make sure they're ready to hit the road when you are. You can also have a certified technician look them over as part of your regular oil change visit. While observing your tires, be sure to watch for the following:
Sidewall cracks
Bulges or blisters
A vibrating sensation while driving
If you notice any of these symptoms, your tires may be experiencing dry rot or worn tire tread or they may be unbalanced or misaligned.
It's important to schedule service at your local dealership's service center as soon as possible to ensure safe and capable driving and handling.
Find Out How Long Your Tires Will Last
If you want to learn more about how long tires last, contact the team at Nissan of Mobile. We'll tell you more about the best practices for keeping your tires in great shape in the Prichard, Mobile, and Saraland areas. We can also schedule you for a tire repair or help you pick out a great set with the right size and performance indicators if your tires need to be replaced.
Contact us to make your tire center appointment today!