How Often Should You Rotate Your Tires?

Your driving style, mileage, and typical road conditions will all have an effect on your vehicle's tires. A simple way to ensure you maximize their lifespan is to schedule a tire rotation every 3,000 to 5,000 miles.
At Nissan of Mobile, our state-of-the-art service center has been helping drivers throughout Mobile, Prichard, and Saraland with this simple yet important task for years. If you can't remember the last time you rotated your tires, continue reading to learn the benefits along with a few ways to check whether you're due for a replacement.
Why Do I Need to Rotate My Tires?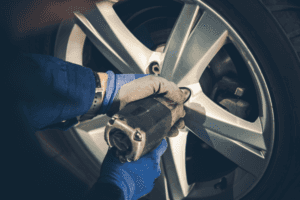 The weight of your vehicle is often unevenly distributed across its axle, which places extra pressure on the front and rear tires. Rotating your tires from one position to another ensures that your tires wear down evenly, extending their usage and avoiding a costly breakdown.
How To Measure Tread Depth
The treads on your tires are what help grip your vehicle to the road and make steering and braking more effective. Healthy tread depths are the key to maintaining your safety and should regularly be inspected for any signs of wear or damage.
A healthy tread depth should measure between 3/32 and 10/32nds of an inch. Special winter tires or tires designed for off-road use will often have deeper treads. You can learn about their specific needs by consulting the manufacturer's website or with a licensed technician.
Generally, a driver should follow these general guidelines when measuring their vehicle's tires:
4/32 of an inch or deeper = healthy tire
3/32 of an inch = replace soon
2/32 of an inch or less = immediately replace
Signs You Need to Replace Your Tires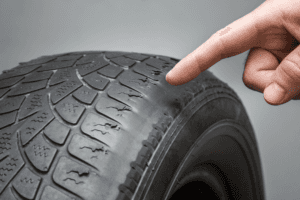 Along with measuring tread depths, there's a few other things you should be mindful of when assessing the health of your tires. Remember, worn-out tires are dangerous and not only increase your likelihood of an accident but can also end up damaging your vehicle's internal system.
A few common signs that your tires are due for a replacement include:
Bulges or Cracks: As a tire begins to deteriorate, weak spots often form along the tire's sidewall, causing parts of it to bulge or blister. If ignored, these bulges can burst while driving, potentially causing an accident.
Indicator Bar Visible: Inside your tire tread, you'll find a special marker that lets you know when your tires treads have passed a safe depth. If the indicator bar is fully visible, your tires are balled.
Vibrations in the Brake Pedal: While driving, if you notice a strong vibration in the steering column or brake pedal, it might be the result of a defect inside the tire.
Schedule a Tire Rotation Today!
At Nissan of Mobile, our team of service professionals is dedicated to providing honest and thorough care to have you back on the roads of Mobile, Prichard, and Saraland in no time. To get started, stop by our convenient location or go online to schedule an appointment today!