Nissan Car Comparisons
Welcome to Nissan of Mobile's car comparison library! We're excited to offer a variety of vehicle comparisons to drivers in Mobile, Prichard, Saraland, and beyond. To aid shoppers in their search for a new vehicle, we've compiled these informative comparisons into one easily accessible place.
Some of our comparisons look at two Nissan vehicles, and others compare a Nissan with another make and model. Either way, the information you find in them will help you narrow down your car search and get you behind the wheel of your dream car in no time.
Sedan Comparisons
SUV/Crossover Comparisons
Why Are Car Comparisons Important?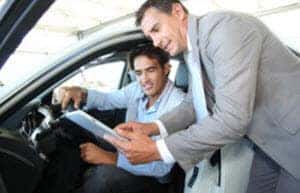 Car comparisons serve many different purposes throughout the research portion of your car search. Simply put, the job of a car comparison is to compare two vehicles side by side to see how they differ in a number of categories. This can bring clarity in your decision of which car to purchase next.
First, car comparisons show that you have many, many choices. You may be fixated on a specific car and its features, but when it's compared to a competing model, you may find that there are features out there that you never knew you needed.
Car comparisons not only help you make an informed decision, but they also help cut your research time in half. Instead of reviewing the highlights of one model at a time, you can read about two comparable vehicles at once. You can then use that extra time to get behind the wheel of the car (or cars) you're genuinely interested in.
Our Nissan Comparisons
Our team at Nissan of Mobile is dedicated to providing the tools and resources you need to find the car that suits you best. The car comparisons you'll find on this page, which are full of helpful and relevant information, were designed to see that vision through.
A scroll through the comparisons below will provide you with key information you need to make this important decision. Click through the ones that catch your eye, and when you've narrowed in on something, we'd be overjoyed to help you with the next step.
Give us a call to schedule a test drive and come on down to our showroom-you'll be glad you made the short drive from Mobile, Prichard, or Saraland.