Nissan Dealer Chickasaw AL
The city of Chickasaw, Alabama is located in the coastal county of Mobile. Because of its proximity to Mobile Bay, an inlet of the Gulf of Mexico, this city was founded as a company town focused on shipbuilding. Companies like the Gulf Shipbuilding Corporation brought people in to work for them and it was these people who molded the city into what it is today.
At your Nissan dealer located near Chickasaw, AL, whenever we're in town, some of our favorite things to do are take a boat ride around the scenic Mobile Bay and experience authentic Cajun & Creole food at Off The Hook Marina & Grill. If you need a reliable car to get you around to these and Chickasaw's many other attractions, you can count on us!
About Our Nissan Dealership
At your Nissan dealer near Chickasaw, AL, we strive to satisfy each and every one of our customers, new and returning, every time they come to see us. We do this by providing quality service at every step of the car buying process. Whether you're just beginning or have been with us for years, we do our best to take care of you and your needs.
When buying a car with us, you'll first encounter our sales staff. These talented individuals know everything there is to know about what we have in stock, so there's no one better to match you up with a vehicle that fulfills your new-car wants and needs.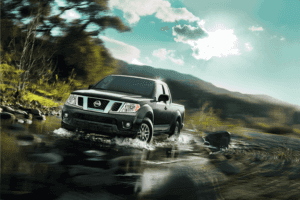 Once they have you fitted with the Nissan of your dreams, they'll hand you over to our financing team who will help you with the next leg of your buying journey. Years of experience have equipped them with the ability to find you a financing solution that you're confident with no matter what.
After you've signed on the dotted line, don't forget to come back and visit us. Have your new Nissan serviced at our on-site service center. Our expertly trained technicians will do everything in their power to protect your investment and keep your vehicle running smoothly.
Find a New Nissan Model Today near Chickasaw AL
Now that you have a better idea of who we are at Chickasaw's Nissan dealer, where you can find us, and what kind of services we can offer to you, we hope you'll consider taking the next step of your car-buying journey with us.
This next step would, of course, be getting behind the Nissan you've been searching for. Browse the thousands of new, used, and certified pre-owned vehicles we have in stock on our website. Be sure to make a note of the things you like, then give us a call. We'd be happy to find a day and time that works for you to come down and take a test drive.
You can also schedule a test drive using our website. Fill out an information request form on the page of the vehicle you're most interested in.