Nissan Maxima Lease Deals

Looking to lease a new Nissan Maxima in Mobile, Prichard, or Saraland? You've come to the right place! In addition to a vast inventory of vehicles, you can take advantage of Maxima lease deals here at Nissan of Mobile!
Learn more about Nissan's iconic sport sedan below and discover all the reasons why you should lease a Maxima!
The Bold and Sporty Nissan Maxima
Engineered for those that want to add a little more excitement to their daily drives, the Nissan Maxima combines a high-powered performance with luxury features to create the ultimate sport sedan.
When you're ready to lease your very own, schedule a test drive at our local dealership and take it out for a spin. As soon as you step inside, you'll be engulfed in an awe-inspiring cabin equipped with all the bells and whistles.
Sit back and enjoy the comforts of the sedan's available leather-appointed front seats. For an even more luxurious experience, opt for seats adorned with available Alcantara®, a material typically seen in high-performance vehicles.
Leasing a Maxima also helps you stay safe as you take in the sights and sounds of the Gulf Coast. With standard driver-assist technologies, such as Automatic Emergency Braking with Pedestrian Detection and Lane Departure Warning, you can embark on your next adventure with confidence and peace of mind.
A Maxima has you covered when it comes to performance, too. Under the hood, you'll find a 3.5L V6 engine. Generating a whopping 300 horsepower and paired with an Xtronic CVT® (Continuously Variable Transmission), you can zip and zoom down the highway without sacrificing any bit of the vehicle's impressive fuel economy.
Why Should I Lease a Nissan Maxima?
The Nissan Maxima may offer a heart-pounding performance and top-notch luxury features, but the question you'll still need to ask yourself before you drive off into the sunset is, should you lease one?
Leasing does come with a long list of benefits, including being able to take advantage of great Maxima lease deals at our dealership. However, the decision of whether you should lease your next car depends on your specific wants and needs.
If you want to stay up to date on the latest automotive technologies, leasing is going to be your ideal option. With terms normally ranging from 24 to 60 months, leasing a Maxima gives you the opportunity to upgrade to a newer model every few years.
Applying for a lease also comes with lower monthly payments. Instead of paying for the full value of a vehicle, you're only paying for the value of the car for the length of your lease term, which results in lower monthly payments. You can also take advantage of any Maxima lease offers available!
Most importantly, leasing provides you with a few options to choose from when your contract ends. As soon as your lease is up, you'll be able to upgrade to a new model or finance or buy your current lease for the remainder of its value.
How to Lease a Nissan Maxima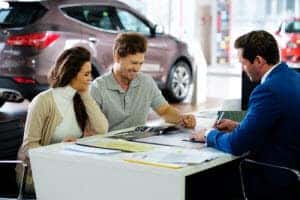 So, after a bit of research and a test drive or two, you've decided that leasing a Nissan Maxima is the best option for you. Now, it's time to get the ball rolling on the leasing process.
When you're ready to lease your Maxima, head over to our Nissan dealer in Mobile, where you'll meet with one of our finance experts. They'll help you apply for a lease and will provide you with all the information you need, so you can make the most informed financing decisions.
They'll also go through all the available Nissan lease deals and help you find a Maxima offer that works best with your budget. From there, they'll discuss your term options and create a payment plan that best suits your wants and needs.
At our dealership, we strive to provide each customer with the smooth and easy leasing experience they deserve, and that starts with helping you learn all about our inventory and leasing options. So, if you have any questions along the way about anything, don't hesitate to talk to our team! With years of experience in the automotive finance industry, you can count on us to help you make the right decisions for your lifestyle and budget.
Check Out our Nissan Maxima Lease Offers
Are you ready to drive off into the Gulf Coast sunset in your new Nissan Maxima lease? If so, get in touch with the finance team at Nissan of Mobile to learn more about our lease deals and financing options near Prichard, Saraland, and Mobile!