Nissan NISMO Models

Nissan NISMO® models are what you get when you give a maverick engineering team free reign over the process. These cars offer the ultimate in Nissan performance and enthusiasts across Prichard, Saraland, and Mobile want to see what all the fuss is about.
There are currently three NISMO® models in the Nissan lineup: the GT-R NISMO, 370Z NISMO, and Sentra NISMO. Below, we'll cover them all in depth. Contact our team at Nissan of Mobile to set up a test drive!
What Is NISMO?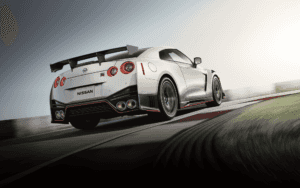 First, a bit more about NISMO® in general before we examine specific models. These models draw from a more than 80-year racing legacy of the Nissan brand. These NISMO® cars are tested on the tracks, in the streets, and through wind tunnels to put a dynamic performance in the books.
Every element is designed to help you slice through the air. Exterior and interior designs use a red-and-black theme, while performance seats help grip you in place.
Best of all, the engines are NISMO®-tuned to produce yet more power. Competition-tuned suspensions and stronger brakes enhance the performance of a lifetime!
Nissan GT-R NISMO
The Nissan GT-R NISMO looks sharp and ready to race. Its aerodynamic exterior features a carbon fiber hood and roof, which reduce vehicle weight and lower the overall center of gravity. This will boost your stability and provide flatter cornering for a more athletic drive.
We bet you noticed that carbon fiber rear spoiler right away! It's designed to increase downforce, letting you travel faster through corners. Enjoy more grip as you throw your weight around on the roads.
The powerhouse behind the performance is a 3.8L twin-turbocharged V6. It's tuned to crank out 600 horsepower and 481 lb-ft of torque—power you can only reel in with Brembo® carbon ceramic brakes.
Nissan 370Z NISMO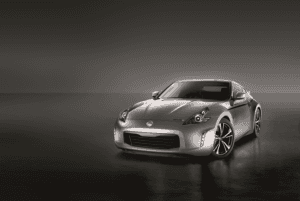 The Nissan 370Z NISMO pushes the envelope when it comes to aerodynamic performance. Designed for minimum drag, its front fascia, rear diffuser, and spoiler have been reworked to add more downforce. In the cabin, Recaro® performance seats feature grippy red Alcantara® inserts to keep you in place.
This NISMO® model rockets forward with a 3.7L V6 engine. It serves up 350 horsepower and 276 lb-ft of torque and will get you up to speed in seconds. A vivid red tachometer sits at the center of the gauge cluster to let you know how hard you're pushing that powerful engine.
The 19-inch RAYS® forged alloy wheels looked aggressively sharp, especially with a NISMO two-tone finish. You can see the red calipers through the spokes—the largest brakes ever offered on a 370Z!
Nissan Sentra NISMO
Even a passenger sedan deserves the NISMO® treatment. The Nissan Sentra NISMO looks the part with its sleek front fascia, lower side sills, and rear spoiler. Together with the rear bumper, the spoiler reduces lift by up to 30 percent while increasing downforce to improve cornering.
Cabin design is inspired by the track. Carbon fiber accents grace the center console and door panels, and the leather-wrapped steering wheel catches attention with a leather red stripe. From a leather-wrapped shift knob to the dark headliner, this car oozes performance style.
Under the hood is a 1.6L DIG™ turbocharged engine with 188 horsepower and 177 lb-ft of torque on tap. Pair it with a 6-speed manual or Xtronic CVT® and sportify your drive!

Thrill at the Nissan NISMO Models
At Nissan of Mobile, we want to help match drivers with the perfect Nissan NISMO® models for their local adventures. No matter which model appeals most to you, we invite you to set up a test drive here at our dealer. Experience the thrill of your Mobile, Prichard, or Saraland drive from behind the wheel!