Stay Connected with NissanConnect®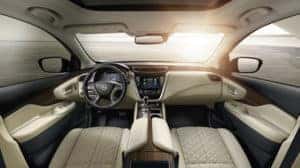 When you're out on the road, you may be looking for a great way to stay connected on trips in Mobile, Prichard, and Saraland—and that's where NissanConnect® comes in. Combining navigation, security, entertainment, and new ways to stay in touch, this dash-mounted system keeps you connected.
Nissan of Mobile is here to walk you through some of the key features you'll have access to and explore some of the ways NissanConnect® makes your life easier.
Take Control Through Voice or Touch
With an Alexa-enabled device or with your Google Assistant, you're able to send commands to your car with your voice. It's possible to start the car, unlock the doors, or flash your lights. Well, that's peace of mind, even from the sofa you're lounging on in your living room right now.
If you forgot to lock your car, want to cool it down before you get in, or are trying to start the car remotely, you're able to do it with the NissanConnect® Service Skills with Amazon Alexa. It's possible to perform these same remote commands from your phone, too.
Peace of Mind on Every Drive
In case of emergency, response specialists will be there for you. If you have a NissanConnect® Services Premium package, talk to a live agent at the press of a button. This feature will activate automatically if the airbags deploy. Connect to roadside assistance or help the police locate your vehicle if you've been in an accident.
If someone else will be behind the wheel of your Nissan, like your kids, activate curfew or speed alerts and get notifications when the car is exceeding the limits you've set.
You're always just a few taps away from plenty of entertainment and information, too. Throw your music on shuffle and never be disappointed with what's coming next. Apps like Pandora® and iHeartRadio will keep the tunes pumping all day long.
You can also stream your own music from your phone wirelessly with Bluetooth® capability or use SiriusXM® Satellite Radio to connect to over 150 channels of live music, sports, news, and so much more.
Take Control of the Road
We know you have places to go and things to do. Why not get there with a little help from Nissan Door to Door Navigation? With seamless turn-by-turn directions being provided, you'll always know what that next move is. The available built-in GPS system covers over six million miles of roads.
With SiriusXM® Traffic, you'll be able to stay one step ahead of other drivers. Traffic updates and alternate route suggestions will help avoid congestion, roadwork, and accidents. Need to fill up? SiriusXM® Fuel Prices can direct you to the closest—and cheapest—gas stations in the area.
Explore NissanConnect® at Our Dealership
The best way to explore NissanConnect® is with a demonstration by our sales team here at Nissan of Mobile. Of course, your test drive is important and getting a feel for how the car handles Mobile, Prichard, and Saraland is key.
Your test drive will also include a tour of the interior, and that will be your chance to understand NissanConnect and what it has to offer. Have any questions for our sales team? Reach out to us today.