Signs You Need Your Brakes Replaced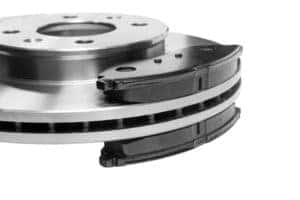 Performing regular maintenance on your vehicle's braking system is both a simple way to ensure you get the best performance as well as a good measure to maintain your vehicle's health. At Nissan of Mobile, our state-of-the-art service center is committed to providing meticulous and dependable care for drivers throughout Mobile, Prichard, and Saraland, along with useful information to keep them safer on the road.
Worn-out brakes often lack the stopping power needed in an emergency situation and can also have negative effects on areas like: fuel consumption, handling, and engine performance. If it's taking you longer to come to a full stop or you notice any strange noises or vibrations emanating from underneath your vehicle, call our service team to schedule a brake inspection.
Continue reading to learn the most common signs you need your brakes replaced.
5 Signs Your Car Is Due for Brake Repair
The lifespan of your brakes is determined by several factors, including your driving habits, local road conditions, and the average mileage you put on your vehicle. Each person's experience will be slightly different, but a general rule of thumb is to have your brakes inspected and replaced every 40,000 to 60,000 miles.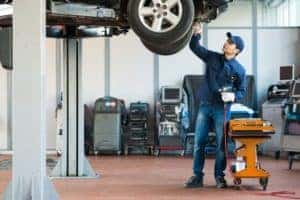 By staying aware of some common warning signs, you'll know when it's time to schedule a brake inspection. Signs that you might need to have your brakes inspected include:
Grinding Noises. If you hear the sound of metal rubbing against metal when you press the brake pedal, that's a clear indicator your brake pads are worn out and need to be replaced.
Strange Steering Wheel/Brake Pedal Vibration. When your rotors are warped or out of alignment, it'll often create vibrations each time you touch the brake. You might also notice that your vehicle pulls to one side when coming to a stop.
Leaking Brake Fluid. Brake fluid is used to create hydraulic pressure to help slow down and stop your vehicle. If you notice a strange liquid pooling underneath your vehicle that coincides with decreased stopping power, you might have a leak and should immediately schedule a service appointment.
Burning Scent. If you notice a strong, chemical smell after hard braking, that's a potential sign your brakes are overheated. This is especially common after traveling down steep or winding roads. You should immediately pull over to allow your brakes to cool down.
Reduced Stopping Power. If it's taking you noticeably longer to come to a full stop or if your pedal sinks to the floor while navigating through light traffic, it's time for an inspection.
Schedule Brake Service Today!
If you're a driver near Mobile, Prichard, or Saraland and notice any of the signs we listed above, do your vehicle a favor and schedule a routine brake inspection today.
At Nissan of Mobile, our team of factory-trained technicians at our state-of-the-art service center can quickly diagnose any issues your vehicle is facing and have you back running at peak performance. Stop in during service hours or schedule an appointment today!