Tire Repair near Me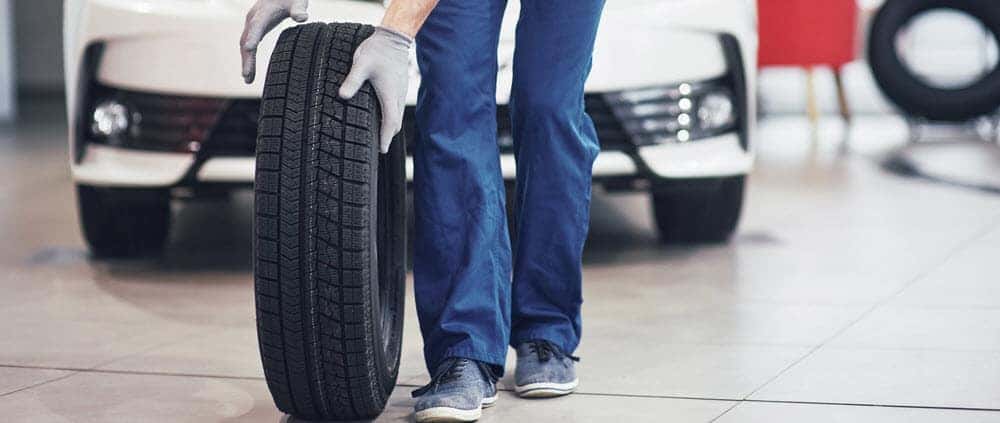 Are you a driver in the Prichard or Saraland area wondering, "where can I get tire repair near me?" If so, you'll be happy to know that Nissan of Mobile is located right here in Mobile for all your Nissan service needs.
We're always happy to help our customers keep their vehicles equipped with high-quality Nissan accessories. If you think you're due for a tire repair or replacement, let our highly trained team of technicians make a professional diagnosis and provide and effective fix.
Signs You Need Tire Repair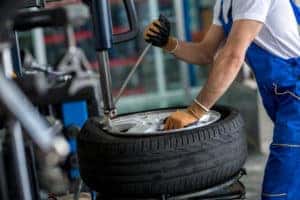 The best way to know for sure if you need to start searching for a "tire repair near me" is to keep an eye out for the following warning signs:
Low Tire Tread: If you perform the "penny test" and place Lincoln's head down in your tire tread, you shouldn't see his hair. If you do, your tread is low and you should replace your tires.
Cracks in the Sidewall: It's important to inspect your tires regularly for cracks in the sidewall. This can be an indicator of dry rot, which needs immediate attention to avoid a blowout.
Vibrations: If you notice that your car is vibrating, even on smooth roadways, this could be several issues, such as uneven wear, unbalanced wheels, or misaligned tires.
It's Been a While: Ideally, your tires should be replaced every three to four years and especially no more than 10 years. If you're in this window, it's a good idea to have a trained service technician inspect your tires.
If you notice any of these signs, it's time to stop by our nearby tire center for a tire repair or replacement.
Our Service and Tire Center
Our tire technicians are all Nissan-trained and -certified experts who know tires. We specialize in all kinds of tire repair services, including tire rotations and wheel alignments.
It's always our goal to keep you safe while out on the road, so if we notice that you're in need of a new set of tires, our team will call upon their extensive training to help you select the proper tire size and performance indicators for your model.
We know those unexpected moments can happen, too. If you've hit a nail or some other debris, it's possible there may be a leak in the tire itself. We'll do our best to plug or patch the tire in an effort to save the tire itself. However, if it's determined that a new tire will be needed, you'll be able to select from some of the top brands available in the industry right here at our location.
Rotating the Tires
A tire rotation is an important part of vehicle maintenance. After all, it's something your Nissan needs to provide a smooth, efficient drive on local roads. A tire rotation should be completed every 5,000 miles; however, some other manufacturer models can go a bit longer between oil changes.
A tire rotation includes a repositioning of the tires in specific patterns, from front to back or side to side-whatever pattern is required by the manufacturer. They also maximize tread life by evenly spreading wear across all four tires. Each position on your car is a little different, so each tire works differently.
For example, tires on the front of a front-wheel drive car will handle a heavier load when it comes to turning, braking, and accelerating. Even tread wear will ensure the tread depth on the tires is more in line, keeping traction and handling more consistent on all four tires. We'll ensure your tires are rotated using the proper pattern and return you (and your car) to the road as soon as possible.
Do You Need a Tire Alignment? The Signs to Look For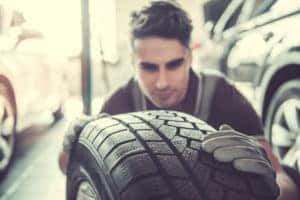 It's possible that a tire alignment (also known as wheel alignment) is needed to ensure your tires are performing as they should. An alignment is capable of improving handling while ensuring your car won't pull in a certain direction or vibrate in a strange manner.
An alignment specifically refers to the suspension on your vehicle. The tires and wheels themselves aren't receiving the adjustment. An alignment adjusts the tire angles, which affects how they make contact with the road.
There are a few signs to look for when it comes to figuring out whether or not an alignment is needed. If you notice uneven tread wear, then that can be one of the first signs that an alignment is needed. Also, if the car is pulling to one side of the road and you have a tough time keeping it centered in its lane, a tire alignment may be needed.
Another common sign is if the steering wheel vibrates, particularly when reaching highway speeds. If you've noticed any of these issues while driving, get in touch with our service center as soon as possible to schedule a service appointment.
Finding Tire Repair near Me
If you're looking for "tire repair near me" in the Mobile, Prichard, and Saraland areas, contact Nissan of Mobile and we'll get you road-ready in no time.
Use our online portal to schedule your tire repair appointment today!