Transmission Repair near Me

Routine maintenance is key for the long-term performance of your vehicle. One of the most important aspects of any engine is the transmission. So if you're searching for a "transmission repair near me", Nissan of Mobile is is designed to provide drivers near Mobile, Prichard, and Saraland, with a better understanding of this key part, and warning signs it might be time to get it repaired.
Plus, you can find out more about your transmission, or any automotive part, by contacting Nissan of Mobile.
How to Check Transmission Fluid
Most Common Transmission Problems
Signs of a Bad Transmission Control Module
When to Check Your Transmission Fluid
When to Get Your Transmission Flushed
What does the Transmission Do?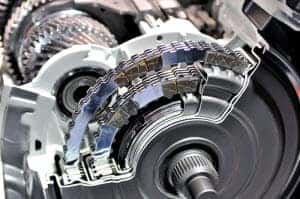 The transmission plays a key role in the overall performance of your car. The function of this vital piece is to transfer power from the engine to various parts of your car, like the driveshaft and wheels. This will occur manually or automatically, depending on the type of transmission you have.
So, let's say you have an all-wheel drive vehicle with an automatic transmission. As you accelerate, the transmission will change gears for you, while delivering appropriate power to each of your four tires.
How Long will my Transmission Last?
Years of wear and tear will begin to take its toll on any mechanical part, and the transmission is no different. Most estimates peg the lifespan of a transmission at about 100,000 miles. This will vary depending on a variety of conditions, such as your particular driving habits, excessive heat or cold, and the type of transmission you have.
Once you reach 100,000 miles, you'll want to get an inspection to make sure your transmission is still running at peak performance.
Signs my Transmission Needs to be Repaired
Outside of age, there are numerous signs that suggest it's time to have your transmission repaired. Some of the more prominent warnings include:
Lag: Your transmission doesn't change gears as quickly as it should, often resulting in a lag period before the car properly accelerates
Rough Transition: You hear a banging, crunching, or grinding sound as you begin to switch gears
Fluid Leak: If your engine is leaking a dark red, or bright red liquid, that is likely your transmission fluid. If this occurs, you should immediately get your car inspected.
Slipping: Your car changes gears randomly, and often without reason.
Warning light: The warning lights on your dashboard are designed to alert you of potential problems. If your transmission light is on, you should have a trained technician take a look at your vehicle.
These indicators are evidence that your transmission may be started to wear down. If this happens, it's a good idea to get your car inspected at a professional service center.
Finding a Transmission Repair Near Me
The service center at Nissan of Mobile is designed to handle any type of repair, on any type of model. We do this with the help of our experienced technicians, and state-of-the-art facility.
So, if your transmission starts to act funky while you're driving around Mobile, Prichard, or Saraland, just contact our dealership, and we'll set you up with an appointment at our service center today!