Why Is My Battery Light On?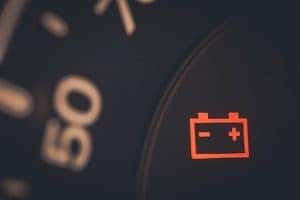 Understanding your vehicle, along with routine care and service, will help you get a desired blend of performance and long-term durability. In this article, we'll answer the popular question: Why is my battery light on? This question has been circulating around Mobile, Prichard, and Saraland, so our team at Nissan of Mobile aims to provide valuable information so you can better care for your vehicle. The most popular reasons your battery light turned on are the following:
Dying Battery
Enlarged Battery Case
Old Battery
Leaking Battery
Our team will go into detail about the following reasons so you can figure out why your battery is on. After reading, you can always contact our dealership for more tips, or to schedule a service appointment at our service center!
Why Might My Car Battery Light Be On?
Typically, if your car battery light is on, it means your battery is running low on power, or not functioning properly. In this event, you should have your battery inspected by a professional.
Along with your light being on, there are a handful of other warning signs that suggest your battery is beginning to experience some wear and tear. These signs are listed below, and often times, when your battery begins to die for one of the reasons about to be discussed, it will cause your battery light to turn on.
Ineffective Engine Crank: If you turn the key in an effort to start your car, and you realize your vehicle is taking longer to start than normal, it could mean your battery is faulty, or dying.
Bloated Battery Case: If you pop open your hood, and find the battery case that contains your battery is bloated, enlarged, or disfigured, that's a telling sign you need a new battery.
Age: Batteries can typically last between three and four years. So, if you can't remember the last time you switched your battery, it's a good idea to have it inspected, because it may have been awhile.
Battery Leak: If your battery is leaking any kind of fluid, or is showing symptoms of severe corrosion, it's probably time to make a shift to another battery.
Responsibilities of a Car Battery
Now that you understand why your car battery light may be on, it's important to address the role of the battery in the overall performance of your vehicle.
The most common understanding of the battery's purpose is to help jump-start the vehicle, which happens immediately after you turn the key. While this is true, the battery plays a part in a variety of other aspects, also. Really, it runs anything electric in your vehicle.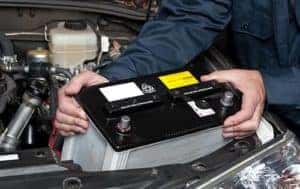 This importance is obvious if you have an electric engine, as the battery serves to provide the majority, or entirety, of energy, but gas-fueled models still use electric headlights, and taillights, along with interior cabin lights. All of these features are dependent on a healthy, capable battery.
Have Your Battery Inspected at Our Service Department
"Why is my battery light on?" is a useful inquiry because it puts the well-being of your vehicle at the forefront of your attention. And, if you believe it's time for an inspection, or battery replacement, stop into the Nissan of Mobile Service Center near Mobile, Prichard, and Saraland.
We can handle a wide variety of repairs, as well as answering any of your lingering questions. So, stop in for a visit at any time!