Why You Need Your Tires Balanced
When your tires are properly aligned, your vehicle will perform better, with increased responsiveness around turns, and even an uptick in fuel economy. With that in mind, the service team at Nissan of Mobile wants to help each driver in Mobile, Prichard, and Saraland understand exactly why you need your tires balanced.
If you continue reading, you'll learn about the advantages of properly balanced tires, and a few signs to keep an eye on that suggest your tires aren't correctly aligned.
The Benefits of Properly Balanced Tires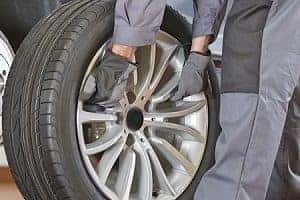 Right out of the gate, let's discuss some benefits of properly aligned tires. Oftentimes, drivers don't realize just how much better their cars' performance could be with tire services like the occasional tire alignment.
If you stop into the shop, and have your tires balanced by a professional, you'll notice advantages like:
Smooth Driving– When everything is working correctly, your ride should be smooth and clean. A tire alignment will help ensure this is the case.
Improved Safety– Properly balanced wheels mean a more responsive driving experience, which comes in handy on the open road by giving you the ability to react more quickly to unexpected events.
Increase in the Life of Your Tires– Your tires will start wearing down at some point, but if you keep them aligned the way they're supposed to be, and you have them realigned regularly, they'll last much longer, and perform better.
Signs My Tires Are Not Balanced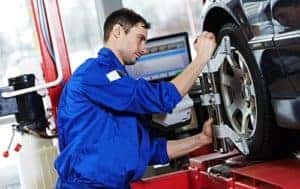 If you're not sure when you last had your tires balanced, there are a handful of warning signs that suggest you need to visit a service shop.
A few of these signs are listed below. If any of them accurately describe your tires, it's a good idea to have an alignment done at the earliest opportunity.
Your Car Pulls or Tails– If you think you're driving straight, and the wheel is pointing straight ahead, but your vehicle is drifting to one side of the road, this is a tell-tale sign that your tires aren't properly balanced.
Uneven Wear– If you find that certain tires on your vehicle are wearing excessively, while other tires remain relatively intact, this discrepancy may be due to improper alignment. Having your tires balanced may correct this.
Excessive Noise– If your tires are performing properly, they should be silent. Once you start hearing squealing, whining, or any other kind of unusual noise centered around your wheels, it's a good idea to have them inspected.
Have Your Tires Balanced at a Modernized Service Center
Nissan of Mobile aims to satisfy the automotive needs of every driver near Mobile, Prichard, and Saraland.
So, if you find your tires are unbalanced, and you want to have this corrected, give us a call, or use our online scheduler tool to set up an appointment at a time that works best for you!